We keep European Go Federation equipment in our wearehouse; this equipment is mostly used for large events such as the European Go Congress or the European Youth Championship. If you are interested in renting this equipment, please read the following information.
We recommend that you request the rental about two months in advance so that there is time to arrange and prepare everything and send it on time. Your first step will be to contact the management of the European Go Federation and find out if it is possible to rent the equipment and under what conditions (who will pay for the transport, etc.). After this, you can contact our company. We will send you the equipment we have in storage. In addition to stones, boards and chess clocks, we also have table numbers, names holders, flags, etc. We will specify the place and date of delivery. We can also arrange transportation to the venue.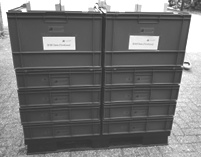 We send the equipment on pallets – 120×80 cm
(mostly stones and chess clocks) and 120×100 cm (mostly boards). Each pallet can weight several hundred kilogrames. We try to make sure the carrier has a truck with a folding platform and a pallet truck so that the pallets can be easily unloaded. However, we still recommend a solid horizontal surface or a loading ramp for unloading. The door into the building should be at least 110 cm wide (for a larger pallet; 90 cm is sufficient for a smaller one).
Keep in mind that the carrier will only take equipment inside the first door, and that the equipment will be delivered up to one week before the event. This means you will have to arrange unloading and storage of the equipment at the venue in advance and ensure that someone is present on the day of delivery. We will inform you of the date and approximate hour of delivery ahead of time.
For easier handling, we can add a box trolley to the pallet, see photos.
The same rules apply for sending the equipment back. The boxes on pallets are wrapped with stretch foils, which we can also deliver along with the equipment. Keep in mind that you will need sufficient free space around the pallets, at least half a metre, for wrapping boxes in stretch foil. On the arranged collection day, someone must be present on the site to hand over the pallets to the carrier.